Problem
As citizens of Planet Earth, we have the duty to protect our natural spaces. The effects of the global pollution challenge are visible in our local parks.
With pollution washing up on our shorelines, and entering our waterways from land, this poses a threat to our ecosystems that goes ignored.
Current methods include the use of large machinery, or manual efforts which will not be a sustainable effort.
Facts
A look at the pollution problem at the global, national, and local scope.
Sub-Problem
Robot Missions' focus for shoreline cleanup is specifically on non-natural debris that falls within the 3-25mm range. This includes cigarette butts, fragments of plastic, nurdles, and single-use cutlery. This debris is commonly ignored and accumulates on the shoreline.
Working Prototype
Robot Missions has developed a low-cost robot for use with environmental observation, restoration, and cleanup. The first application of the robot is collecting non-natural debris on beaches.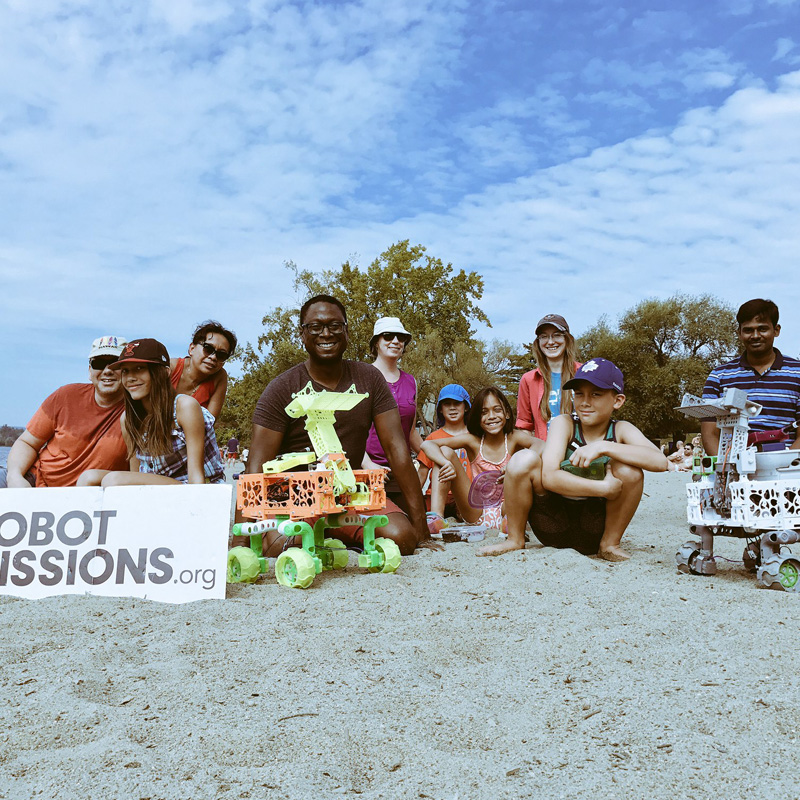 Field Tests
To date, Robot Missions has embarked on 20 Field Tests with this prototype, in Toronto and Ottawa. Joined by over 250 participants who took part in the Field Test experience. Additionally, there have been 4 replications of our robot.
The Next Step
In order to reach the impacts from the technology, the next step in the journey is covering continuous usage, applying advanced cognition for the detection of debris, and swarm intelligence for a team of robots. Building on our previous Field Test experience, we will engage with the community leading up to a final demonstration at the end of summer.
Time to unveil what has been in the works.
Robot Missions Municipal Trials 2018 determines how low-cost robots can increase efficiency in reducing the accumulation of non-natural debris polluting our beaches and parks, while educating the public.
Trial Overview
Robot Missions' Municipal Trial addresses the problem that municipalities face with litter and pollution on their beaches.
Robot Missions will reduce the amount of this litter on the beach using the robots. Applying cognition from IBM Watson, the robots would be trained to detect the litter to collect it autonomously, and work together in a swarm team. Throughout the summer, the community will be engaged in this project with public Field Tests. Culminating in a final demonstration, Robot Missions will show how the robots tackle this challenge in a cost effective way. Three robots operating 2-4 hours daily throughout the summer will collect trash, log data, and train imagery.
Tactically, this will address the following needs:
Educating the public regarding consumption patterns, pollution, recycling, and STEM

Removal of non-natural, not biodegradable debris (3-25mm)

Reduction of the accumulation of debris

Track the percent coverage of debris on a weekly basis at specific segments on the shoreline

Optimize cleaning operations by determining the highest areas of concern
What's involved?
We will have a setup on the beach that will be the main test point for the robots. There will be a zone roped off where the robots will be operating with a deck box to store the robots on site. Community members will deploy the robots for testing each morning, reporting back on data and observations they saw.
There will be 5 robots in total, with 3 of them being used daily, and 2 of them to swap out with or used as demo robots for STEM summer camps in the area.
Why should we do this?
This problem needs to be tackled. In other locations in the world, pollution is much more prevalent. Through the trials, Robot Missions is developing a solution that can be implemented around the world.
The trials will set an example for other municipalities, serving as a model to open the gateway for trials in their outdoor spaces. It will benefit Ontario by showing an application for ground based robotics within the province.
Where will this be held?
Stay tuned for the announcement of the location in the National Capital Region!
How will it work?
The robots will navigate within a segment of shoreline as defined by a geofence. A volunteer will be supervising the robots. In this area, the robots would perform tasks to:
Collect debris into their containers

Capture imagery to detect non-natural debris

Use swarm intelligence to determine collective and individual robot tasks

Record air quality and environmental sensor data

Deposit the debris into recycling areas
Phase I
(March, April)
30-50 people attend initial kickoff gathering

Interest in the community garnered through public consultations

Recruiting, onboarding, training of core team members and volunteers

5-10 volunteers recruited for weekly community Field Tests

5 volunteers committed to helping with the daily operations of the robot

Experiment setup at beach
Phase II
(May, June, July)
Weekly public Field Tests

Robot operations development

Baseline assessments – percent coverage tracked weekly

4 hours continuous operation for 4 days by robot without needing a human assist

Swarm intelligence between 3 robots: Go to location together

75% accuracy achieved with debris detection through IBM Watson

Camera & debris detection trigger robot to collect automatically
Phase III
(August, September)
Demonstration to stakeholder representatives

Presentation by Robot Missions showing summary of findings

Post processing of camera data determines areas of concern

Meet to discuss findings & future opportunities with stakeholders

Gathering for season closing of Field Tests

Final development and tuning of robot operations

Swarm intelligence between 3 robots: Divide task and work on it

4 hours continuous operation for 10 days by robot without needing a human assist
Impact: Park
What impact would the trials have for the park? (Intended)
Quantitative Impact
300 community members participate in Field Test

30% reduction of debris coverage after robot use in segment

30% more area of shoreline was cleaned

15% reduction of park worker daily cleanup time

5x as often cleaning of areas less reachable

60 minutes to clean a segment
Qualitative Impact
Beach looks cleaner for recreational use

Increase of visits to park because of increased cleanliness

Hands-on STEM learning for youth that visit weekly activity

Sense of community spirit for improving the beach!
Impact: Robot Missions
What impact would the trials have for Robot Missions? (Intended)
Quantitative Impact
100 hours of robot data usage logged

30 days of location based air quality and environmental sensor data logged and shared openly online

4 hours continuous operation for 10 days by robot without needing a human assist

90% of the time robots are able to return without issue

75% accuracy achieved with debris detection through IBM Watson

5 baseline assessments tracked weekly at different segment locations on the shoreline

3 top areas of concern determined through analysis of data

20% increase of coverage within same segment from robot navigation cleaning pattern algorithm
Qualitative Impact
Robot software is more robust

Swarm intelligence between 3 robots: Divide task and work on it

Camera & debris detection trigger robot to collect automatically

Skills development in team and participants!

Reach 300 participants at weekly Field Tests over the summer

STEM outreach activities with community

Lessons learned from our experiment can help other robotics ventures in Ontario
Risks
Here are four key areas Robot Missions sees as large risks to the project.
Severe flooding
Mitigation strategy: Last spring the Ottawa region had severe flooding. If this were to happen again this year, it could delay the deployment of the robots onto the beach by 1-2 months. To mitigate this risk, Robot Missions could expand the robot operating zone to follow where the receding water meets the shoreline. This would mean we would need to track more area over the trial to ensure continuity of our data each week.
Injury
Mitigation strategy: There will always be an intern or volunteer present when the robots are operating. With robots operating in an environment where there are humans, there is always the possibility of an injury. Robot Missions plans to mitigate this by having the public participate in creating signs about the robot and placing them on the beach. Furthermore, Robot Missions will find a way to have an insurance policy to cover any injuries – either by purchasing one, or through a partnership.
Theft of robot
Mitigation strategy: Each robot will be equipped with GPS and a camera that periodically communicates back to our servers, either through wifi or a cellular network. If the robot detects unusual accelerations, the programming would enter into "security safety mode", triggering an alert to be sent to the volunteers and employees with the GPS coordinates of the robot.
Technology failure
Mitigation strategy: As we have designed, developed, and manufactured the robot from scratch, Robot Missions has a deep understanding of the system architecture and where to look in the event of a failure. As the components used are off the shelf products, if one fails, Robot Missions could purchase a new one. Robot Missions use a development ecosystem that is supported across multiple chips. If need be we can migrate to a different microcontroller without having to recode the firmware from start.
Why is this Groundbreaking?
Robot Missions' solution is of a transformative nature as it reimagines how parks within cities will be more efficient at reducing pollution and make more intelligent decisions to tackle this pollution problem based on data.
Robot Missions is attracting significant interest from residents, the education community and others for its innovative approach to solving the real problem of beach contamination. I recently participated in a demonstration at Westboro Beach, and was excited to see so many young people taking part.
Solving environmental problems will depend on attracting Canadians to STEM studies and careers.
Robot Missions is a great way to both help keep our natural environment clean while exciting residents about learning more about technology.
Request a Demo for your City
We'd love to show you the robot in action and engage with your community. Be part of the Municipal Trials by requesting a demo for your city.
Hint: If your city is applying for the Smart Cities Challenge, we would be thrilled to assist with integrating a Robot Missions robotics & automation strategy into your proposal!
Questions
Through the Municipal Trial, Robot Missions will be collecting data and observations that will give us clues to answering these questions.
How many robots will be necessary to collect non-natural debris from the entire beach, and for what duration of time? What about all of Ontario, and the world?
What are the sources of the pollution on the beach (in addition to those caused by human behaviour)? What is the composition of the pollution and the size distribution?
Will distributed manufacturing be a feasible way to scale this mission?
Funding
Robot Missions is fundraising $30K for this 7 month project.
To do this, Robot Missions is seeking corporate and philanthropic sponsors, and building a list of people who will support our crowdfunding campaign.
Your support will be pinnacle to making this a success.
Your support will place your brand in front of a great initiative for corporate-social responsibility, and name the robot!
Vision
Robot Missions' vision is to democratize robotics and empower citizens to tackle environmental challenges.
We want to see robots cleaning parks and beaches across the world. Here in Ontario, we have set the goal of one robot per park by 2030.
By harnessing distributed manufacturing through Fab Labs, makerspaces, and universities to start a chapter of Robot Missions in their community, this will reach a global scale.
"Never doubt that a small group of thoughtful, committed citizens can change the world; indeed, it's the only thing that ever has."
– Margaret Mead
The Change
We believe we all have the duty to preserve our natural spaces.
Robot Missions puts this into action, with a nation completing missions together.
Municipal Trials 2018 is a step towards our vision.